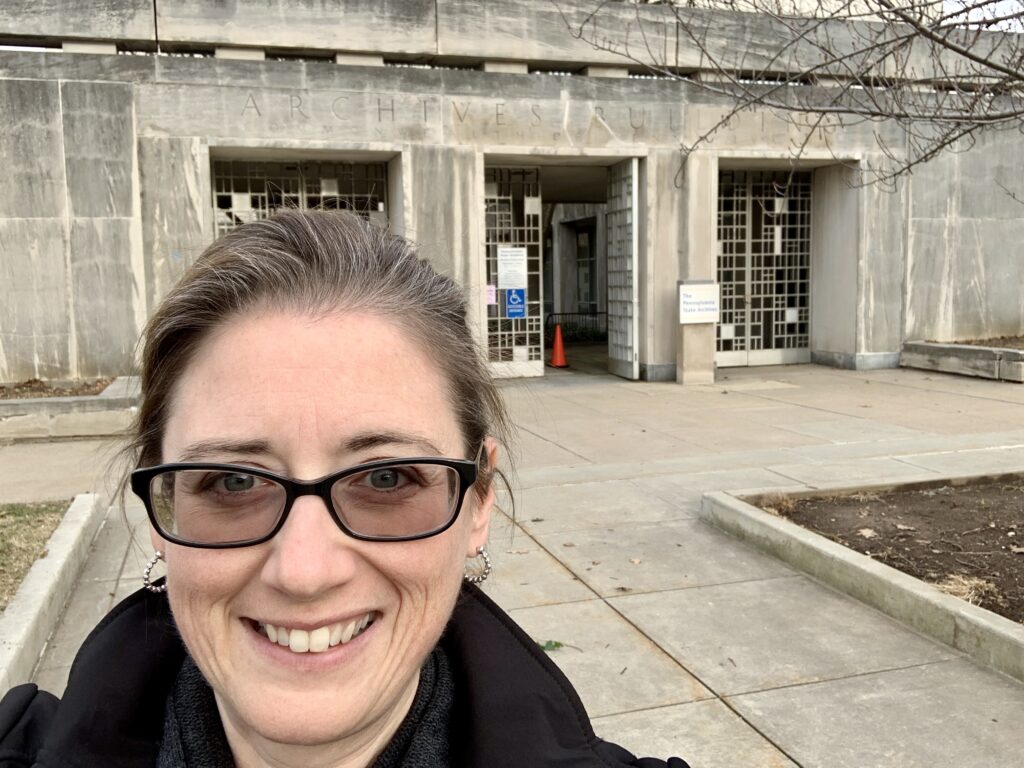 On 2 Jan 2020 I visited the Pennsylvania State Archives for the second time in my life. The first time that I had visited in 2016, I obtained some material of Josiah Harding in the Pennsylvania Militia, but I didn't know enough about how archives worked to take pictures of everything (so I did this time). Also, while I was there, I wanted to see what records they had from the Warren State Hospital to see what might have happened to Perry J. Harding. Here is some background on Perry J. Harding:
Josiah and Eliza (Proven) Harding had eight known children:
Simeon (George Simeon)…………………….b. 29 Apr 1839
Lucy A……………………………………………………………b. 21 Nov 1843
Amy S…………………………………………………………….b. 22 Jul 1847
Emmeline…………………………………………………….b. 26 Nov 1851
George Washington……………………………….b. 22 Feb 1855
Perry J………………………………………………….b. 31 Mar 1857
Ida J…………………………………………………………………b. 29 Apr 1859 (my direct ancestor)
Charles H……………………………………………………..b. 13 Feb 1862
It seems that Perry is a mystery to all of the Harding family genealogists as nobody that I have come across has any information on him besides census records. The Our Harding Family book by Mary E. Baird lists his name, date of birth, that he was not married.
I found two newspaper articles from 1879 when Perry was 22 years old:


Those article raised so many questions for me: Why did he go all the way to Buffalo to enlist? Why not enlist in the Pennsylvania Militia that his father was the Major General of? What part of the physical examination did he not pass? Did he go to Buffalo with his father's approval and/or encouragement?
The next article that I found was in 1886 when Perry was 29 years old: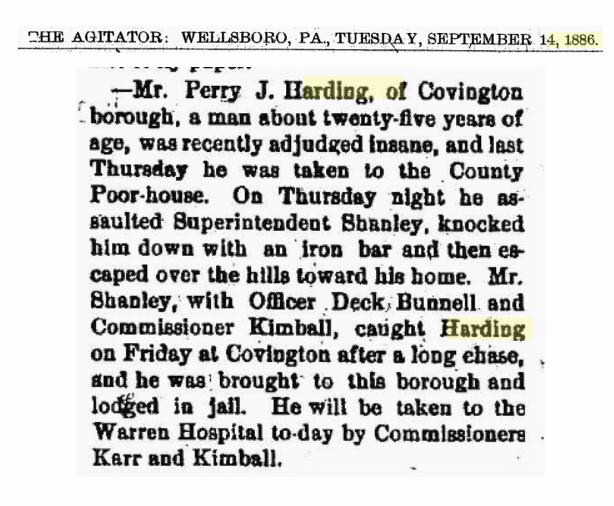 It is obvious that Perry didn't want to be in the County Poorhouse. I wonder if there are court records or minutes that might explain why he was judged insane. I will have to check the next time I visit Wellsboro, PA.
The last piece of evidence that I found was this next article in 1892 when Perry was 35 years old: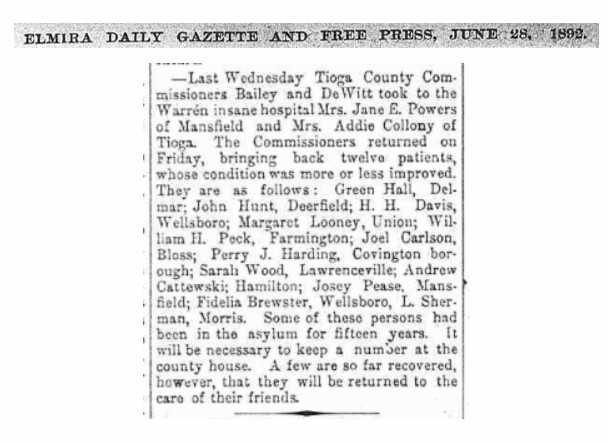 That was all I was able to uncover until I was able to view the case files for the Warren State Hospital. Stay tuned for Perry J. Harding – Pt. 2!