I am working on my application for the General Society of Mayflower Descendants. The Co-Historian from the New York chapter of the Mayflower Society has been helping me and we have narrowed it down to four documents needed from me to complete my application:
Ella Webb's marriage certificate to Charles Whittaker
Ella Webb Whittaker's death certificate
My Mom's marriage certificate to my Dad
My Grandpa, Ivo Johnson's, birth certificate.
There were a few other documents needed, but I was able to put my hands on those fairly easily with the help of my Mom and Aunt Linda.
For the first one, I had a newspaper clipping for the marriage, but no certificate. They were married in Horseheads, NY and I wasn't even sure if Horseheads had records back that far. The Co-Historian that is helping me reminding me that right on my Ancestry tree that I had attached the NYS Marriage Index to Ella and Charles which indicated that there is a record. Duh! I forgot that I had attached that index! So I called Horseheads (rather than waiting 8+ months) and they found the record. I should receive a transcript very soon!
Ella's death certificate was a whole other story. I had checked with the City of Buffalo and they did not have a record of her death. Her death was listed in the NYS Death Index, but it did not indicate a place of death. So I ordered the death certificate from the NYSDOH on 13 May 2019 and have been waiting.
Last weekend I heard that NYSDOH is sometimes taking up to 14 months to fulfill genealogy requests. If I wait that long to receive Ella's death certificate, I'm literally going to "miss the boat" of the Mayflower 400th anniversary. LOL I started really racking my brain on how I could find where she died to see if a local municipality might have the record.
I thought about calling the funeral home to see if they knew. I thought about contacting the cemetery but I thought that I already had a copy of all of their records and it may not be successful. Then I started to think about who was alive when she passed away and I thought about her granddaughter, my Aunt Pat. I haven't spoken to Aunt Pat in a few years so I thought this would be a good excuse to catch up and get together. We talked for 45 minutes and will be having lunch soon next month.
She thought about it and after, as she said, "dusted off the cobwebs" of her memories she said that she remembered that Ella (Gammy) died in the Erie County Home and Infirmary which is in Alden, NY. She said that Gammy had had many strokes and didn't have health insurance as she lived off of the small pension from the NYCRR. So when she needed more care, she was placed in the Erie County Home.
I did some searching and I think this place may also be the Erie County Poor House. I'm curious to learn more about it now.
Thank goodness for Aunt Pat! I e mailed the Town of Alden's clerk and she got back to me a few days later. She found the death certificate and I could pick it up for the bargain price of $1!!
I drove there today and have it!! Wahoo!!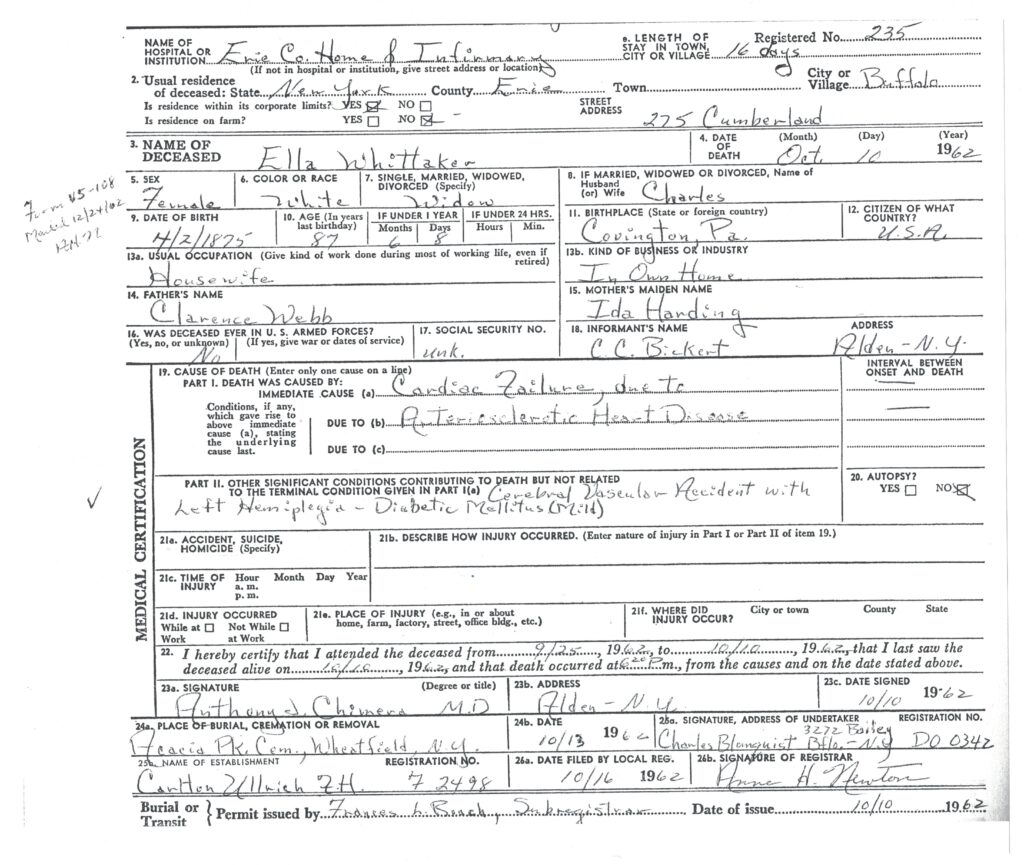 I am curious when I do finally receive the NYS copy of the death certificate how different it will look.
My Mom was working hard and finally found where she filed her marriage to my Dad and received a certified transcript of it. So that one is done!
The last needed document is my Grandpa Ivo Johnson's birth certificate. I call the Town of Randolph and they gave me the directions on how to order. I was thrown off because they use the NYSDOH form, but there are no directions on the site that explain that they want you to mail the request to them and make the check out to the Town of Randolph. She didn't look to see if they had the birth certificate there, so fingers crossed that they find it and that I receive it soon!