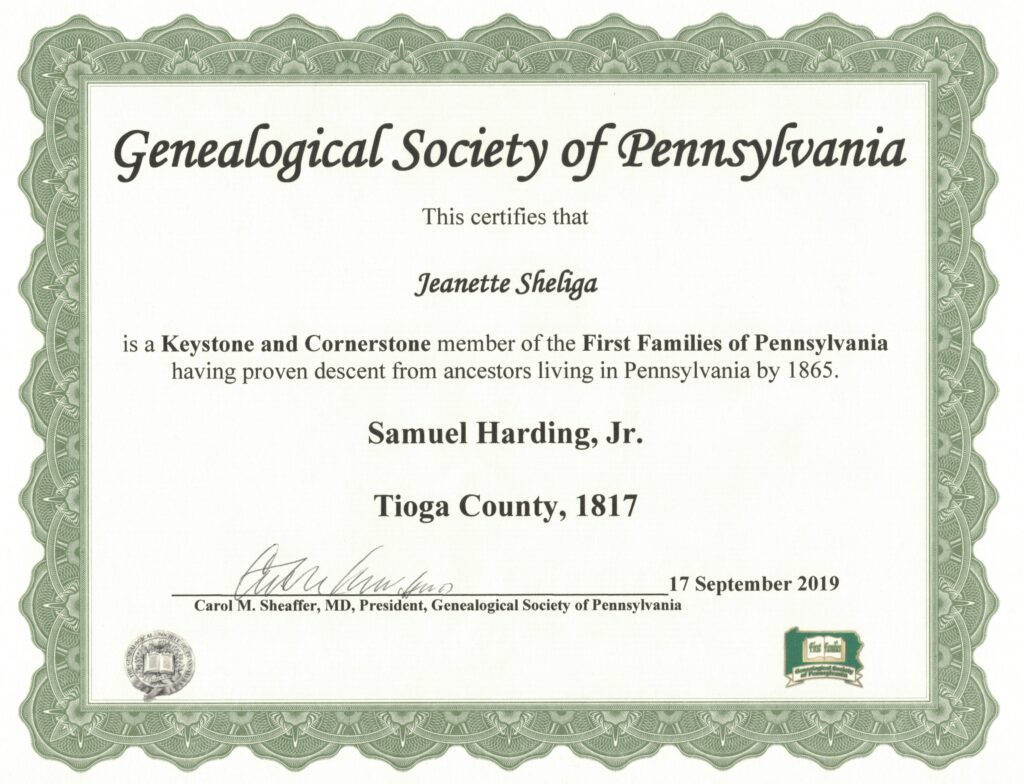 On 1 Oct 2019, I received a letter, my certificate, and a pin for being approved into the First Families of Pennsylvania Program! I am proud of the work that I did to complete that application and am excited to have it approved.
The letter said that they will add Samuel Harding's name to their Approved Ancestors list on their website (https://genpa.org/first-families-of-pennsylvania/list-of-approved-ancestors/) and that my name will be read at their annual meeting in March.
I'm curious where that meeting might be. In checking their website, it appears that their society is in Philadelphia so I assume their meetings are there. It appears that you can visit their library. I'll have to remember that the next time that I am in Philadelphia.
Now that I am a member of the Genealogical Society of Pennsylvania, there is a members-only area of their website that I have access to. The collections that they have listed are:
Pennsylvania Genealogical Magazine
Penn in Hand Newsletter
Mount Moriah Cemetery Database
Mrs. W. A. Berryman Collection
John Humphrey Collection of Pennsylvania Birth Records
Marriages Published in Der Bauernfreund
Church Records
Cemetery and Funeral Home Records
County Records
Miscellaneous Records
Newspaper Indexes and Abstracts
Occupations
Passenger and Emigration Lists
Within the collections, I don't see anything pop out for Tioga County, but I didn't dig in too far. I'll have to remember that I have these collections available to search in!