For week 7 of 52 Ancestors in 52 Weeks the theme was "Favorite Discovery." I have had many awesome genealogical discoveries along the way. I think one of my first "my mind is blown" moments is when I realized that my 2nd great-grandmother's (Barbara Gollwitzer Hetzel) brother, Charles Gollwitzer, ran a restaurant that is still a very well known and popular restaurant in the Buffalo area today.
When I had asked my Grandmother Ruth about the Gollwitzer's, she simply answered that they were in the "restaurant business." She didn't give me the details that where their restaurant is now the Pearl Street Grill & Brewery! Here is their current website: https://pearlstreetgrill.com.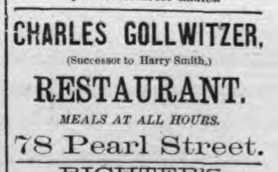 When Charles Gollwitzer first took over the restaurant, it was located at 78 Pearl St. The above newspaper advertisement was from 1884.
You can see from this portion of a Sanborn Fire Insurance Map where 78 Pearl was located in 1899 and it was indicated as a Saloon: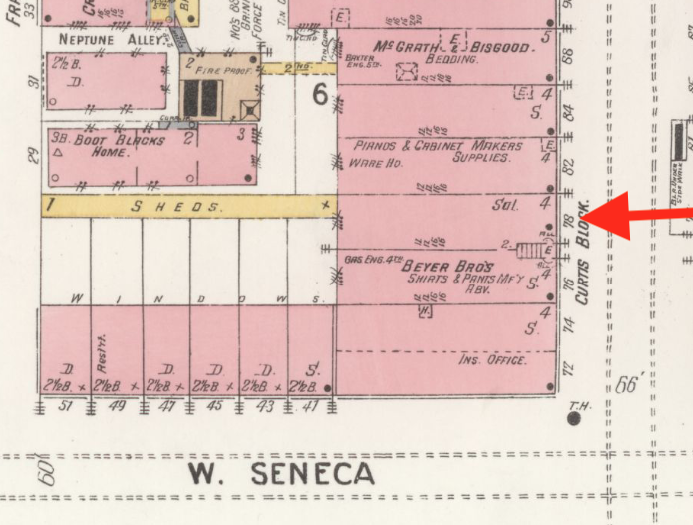 After Charles' death in 1906, his son's ran the restaurant and at some point, the restaurant moved down to the corner of Pearl and Seneca Streets (72 Pearl St.). 72 Pearl is the current address for the Pearl Street Grill & Brewery.
When you visit the current restaurant (which is four stories tall!), you can see that they have broken through the buildings from 72 Pearl to 78 Pearl to expand their space. They have they brewery tanks in the portion that was 78 Pearl.
I find it fascinating to read all of the newspaper articles that I have found on the Gollwitzer Restaurant and feel an intense connection whenever I go to eat there. I have asked and the restaurant doesn't seem to have any Gollwitzer artifacts or history on the Gollwitzer family. I would love to someday see a picture of a Gollwitzer Restaurant Sign from back in the day.
I have collected many newspaper articles about the Gollwitzer Restaurant and will someday format them to print in a book.