Recently Ancestry announced that their DNA database has now hit 18 million test takers and that they were going to change the DNA matches that you have access to from 6cM up to 8cM. Genetic Genealogists are in favor of this as most of the cousin matches you might have at the 6-7.9cM range are false positives.
For fun, Blaine Bettinger posted a poll in the Genetic Genealogy Tips & Techniques Facebook group asking everyone to post the number of shared matches that they have before the threshold change takes place as everyones number of shared matches lower.
Currently, I have 40,068 DNA matches on Ancestry. I'm not sure that I've ever noticed what was underneath that number in that of those 40k matches, only 580 of them are close matches of 4th cousin or closer and that 39,488 matches are distant matches that only share 6-20cMs with me!
Huh! I had no idea that the matches were so lop-sided and that 98.5% of my matches share less than 20 cMs with me.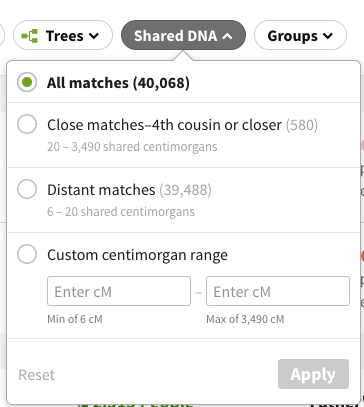 Out of curiosity, here are the DNA match counts for some of the tests that I manage/people have shared with me:
Jeanette – 40,068
Mom – 65,979
Dad – 21,157
Grandpa Ed – 18,334
Aunt Joan – 32,345
Uncle Paul – 29,542
Tom – 20,131
Uncle Dick – 41,406
Uncle Wes – 77,310
Chris – 30,714
If I was to rearrange that list putting the highest counts first, the list will look like:
Uncle Wes – 77,310
Mom – 65,979
Uncle Dick – 41,406
Jeanette – 40,068
Aunt Joan – 32,345
Chris – 30,714
Uncle Paul – 29,542
Dad – 21,157
Tom – 20,131
Grandpa Ed – 18,334
It's interesting to look at the numbers of matches and hypothesize why the counts differ. In the Practical Genetic Genealogy course that I am taking this week, I asked Blaine Bettinger and he said that about 80% of the 18 million AncestryDNA database are US residents and about 20% is the rest of the world.
For my Grandpa, I assume his match list has the lowest count because both of his parents were immigrants to the US and therefore there are less US residents that have also happened to have taken an AncestryDNA test.
It'll be interesting to compare the match counts after Ancestry changes the threshold to 8cM!