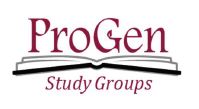 An exciting thing happened this week: I was invited to join an upcoming ProGen Group! I have been on the waiting list since I attended FGS in August 2019. I remember being in the vendor hall and talking to Rebecca Whitman Koford, CG after attending one of her lectures. She asked me if I had been through the ProGen Study Group yet and I explained that I was interested but that I hadn't quite met all of the requirements. One of the requirements being that I completed the NGS American Genealogical Studies (AGS) course.
She encouraged me to sign up anyway as she felt from our conversation that I was ready to be put on the waiting list. I really appreciated her encouragement. It gave me confidence that I was on the right path and doing a good job moving forward with my education.
In my head, I thought I would be done with my NGS AGS course by now. At the time, I didn't realize that the 3rd and 4th course would involve report writing. There really is no reason besides being distracted by "bright shiny objects" and having a lack of Covid-focus, that I can't, at least, finish the 3rd course. And, hopefully, a good chunk of the 4th course.
Education worlds are starting to collide as, in addition to the NGS AGS, I signed up for Cari Taplin's Mastering Genealogical Proof study group, starting as a DAR Registrar, and GRIP will also be happening all at the same time. For my sanity, I know it isn't morally right to wish for this, but I hope that school is cancelled for the remainder of the year for me to get through this June/July little bump of overlap that I have.
I know it isn't my fault as I had no idea that the ProGen invite would come in and begin at the same time, but I can't miss this opportunity to start ProGen as much of my summer is free and I should be able to have enough time for me to familiarize myself with the format and workload.
A lot of fun educational opportunities ahead! Here we go!!